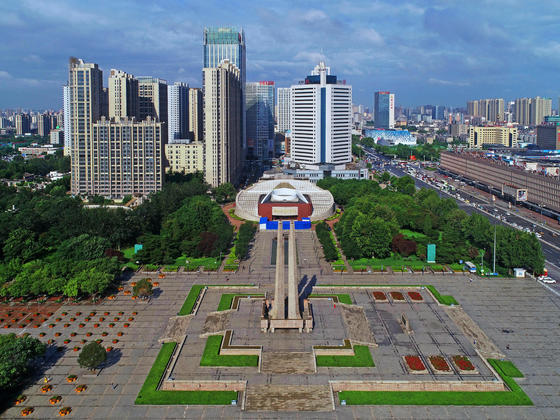 At 3.42am on July 28, 1976, an earthquake of magnitude 7.8 hit Tangshan in China's north eastern Hebei province. It struck the heart of the city and left most of it in ruins. Over 240,000 people out of a population of almost 600,000 were estimated to have been killed by the huge tremor, which struck as many residents of the city were asleep.

Mr Cao, a local taxi driver, was 10 years old at the time and living in a village 20 kilometres north of Tangshan, which by then had become a centre of heavy industry in northern China. Because the buildings in Tangshan's rural hinterland were lower in height than those in the city, some homes in the village remained standing and the young Cao survived.

Today, 40 years since the earthquake, and Mr Cao lists the city's accolades, his voice full of pride. This year, Tangshan will host a number of showy cultural events The World Horticultural Expo, the China and Central and Eastern European Countries Summit, and the Golden Rooster and Hundred Flowers Film Festival. Rebuilt and transformed over the decades, Tangshan's high-rise skyline is emblematic of economic growth – but the city's heavy smog is testament to its environmental problems, too.

The horticultural expo, a flower exhibition running from April to October, has already attracted almost one million visitors.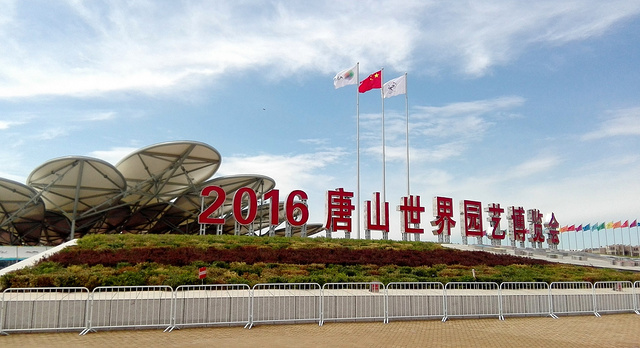 The Horticultural Expo is being held at a site that was once a coal mine. (Image by 海军1990)
The Horticultural Expo is being held at the South Lake City Park, a former dump site once marked by piles of trash and rubble. It is now the "pride of the city", according to some residents, where visitors queue for a chance to buy expo tickets.

In 2010 the city won the right to host the 2016 World Horticultural Expo – to be held on the site of the former Luankai coal mine which the city began cleaning up in 1996.

The theme of the expo is "City and Nature, Phoenix Nirvana", a reference to the myth of the phoenix being reborn after great suffering (a metaphor for Tangshan rising from the ruins of the earthquake).

Reconstruction

Tangshan lies on the north of the Bohai Sea and with its maritime links became one of China's first industrial centres. In 1878 when the country's first, large-scale mechanised coal mine opened there. Prior to the earthquake, the mine produced 25.63 million tonnes of coal a year – more than twice predicted the total coal consumption this year in Beijing (where the fuel is still used extensively in district heating).

Over time, the mine attracted firms engaged in railway engineering, cement, ceramics, textiles and steel production, as well as power generation. The city has chalked up many industrial firsts in China: the first cement production site, the country's first steam locomotive, and its first standard gauge railway.

The earthquake in 1976 destroyed or badly damaged most of the city's housing and factories.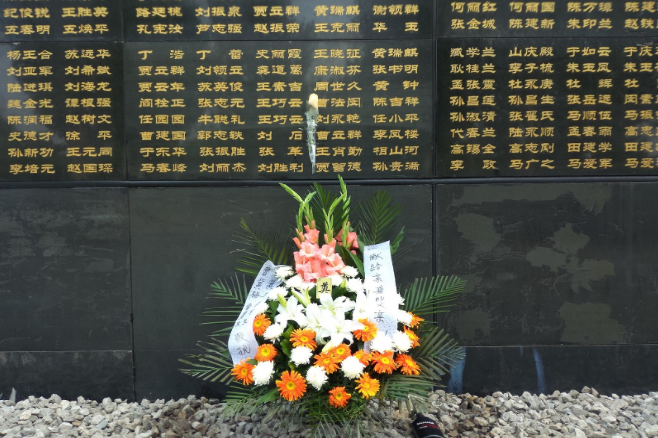 Memorial those killed in the 1976 Earthquake. (Image by Zhang Chun)
Soon after the earthquake, Tangshan was rebuilt, mainly on the back of mining, which relied on the natural deposits of coal and iron ore that used to be abundant across the region. This cheap and abundant energy fed a flourishing steel sector, spurred by government policies which favoured rapid economic development and urbanisation. Around 2008 steel prices rose to 5,600 yuan (US$832) per tonne (today they are around 2,000 yuan).

Mr Cao recalls with envy how steel traders made quick fortunes in those days. "The price just kept going up," he said.

Figures from the China Iron and Steel Association show that Tangshan, a mid-sized city by Chinese standards, produced 80 million tonnes of steel in 2013, with six companies alone producing one million tonnes a year or more.

According to global rankings of steel output produced by MEPS International, a UK steel consultancy, the city of Tangshan produced more steel in 2013 than the entire European Union and was closing in on the world's biggest producers, Japan, the US and India, in terms of output.
Tangshan produced more steel in 2013 than the entire European Union
Overcapacity

But the legacy of rapid development in Tangshan has been overcapacity in the steel sector, which in turn has prompted economic instability.

China currently produces one half of the world's raw steel. However, a report from the China Iron and Steel Association shows that in 2015 utilisation rate of steel mills was only 71.3%, with overcapacity of 300 million tonnes.

Government plans are in place to remove 100 to 150 million tonnes of surplus capacity over the coming five years.

Tangshan alone has been told to cut 40 million tonnes of capacity in the next five years. According to the State Information Centre's calculations, this could cost 70,000 people their jobs. Hebei has ordered the city to reduce steel refining capacity by 4.5 million tonnes this year, resulting in dozens of mostly privately owned firms being closed.

Between 2010 and 2015, the Hebei Steel Group's Tangshan subsidiary moved over 20,000 people to other non-steel production work, including processing of steel products, logistics, services and training.

Wang Huijuan, whose family sells steel construction materials, told chinadialogue that one Tangshan steel company brought in a rule that if both a wife and husband worked for the company, then one of them had to leave their job.

Wang said it isn't just the steel companies that are slashing jobs. Construction materials firms like her's are also seeing profits falling and layoffs.

Many locals have only ever worked in steel mills, so finding roles for these workers is a major challenge.

In the wake of the new environmental protection law, the polluting steel, coking, cement and power generation sectors face a tough economic test. Last year, 466 firms in the city racked up losses, totaling 19.27 billion yuan.

The underlying reason was given in the city's 13th Five Year Plan: structural problems in the city's economy, over-reliance on resources, and a failure to diversify beyond heavy industry.

Foul air

But there are also strong environmental reasons for moving away from heavy industry. Decades of coal, iron and steel industry has poisoned Tangshan's air.

Earlier this month, the Ministry of Environmental Protection (MEP) published air quality rankings for key areas and 74 cities, with Tangshan ranking among the 10 most polluted.

There are some signs that the situation is improving, but despite improvements, the city is still one of China's most polluted.
In Greenpeace's latest ranking of Chinese cities by annual average PM2.5 levels, Tangshan improved from 114.2 micrograms per cubic meter in 2013 (putting it in the 10 most polluted cities) to 84.7 micrograms in 2015 (22nd worst).

It seems that the horticultural expo has given the local government further impetus to limit the operations of heavy polluting industries, at least temporarily.

From July 12 to the end of the month, mines and building sites were shut down, while from July 25, all steel sintering machines were turned off and coking firms halted operations.

Priorities

Reducing surplus industrial capacity and moving towards a more sustainable form of economic growth has only been a government priority for two or three years.

Yet as early as 2007, Tangshan began to show signs that a shift in industrial policy might be imminent. The city underwent an environmental impact appraisal, looking at the expansion of energy-hungry and polluting sectors. And in the following year, the city published a plan for the "Caofeidian" economic development zone to showcase more sustainable industrial models.

Caofeidian's port-side industrial park was initially ambitious, but suffered cash flow problems when the economy slowed in 2013. At the time, a local worker told the media that "the success of Caofeidian depends on whether or not the state finds an appropriate role for it in the strategy to integrate the economy around Beijing."

Tangshan's future rests on its ability to economically integrate with the new north-eastern powerhouse Jing-Jin-Ji, an urban cluster built around Beijing-Tianjin-Hebei.

Tangshan will continue to be an industrial city – the so-called "Bohai Sea New Industrialisation Base".

And it continues to set new records for China. The CHR3, China's first 350 kilometre per hour locomotive, was developed in the city by the China Railway Rolling Stock Corporation.

The city also aims to attract industries, technologies and personnel from Beijing and Tianjin, in order to develop a more diverse economy – its service sector is already growing.

Tangshan has been an industrial city for 130 years and that heritage will not disappearing overnight. But it is no longer willing to be a mere steel city.