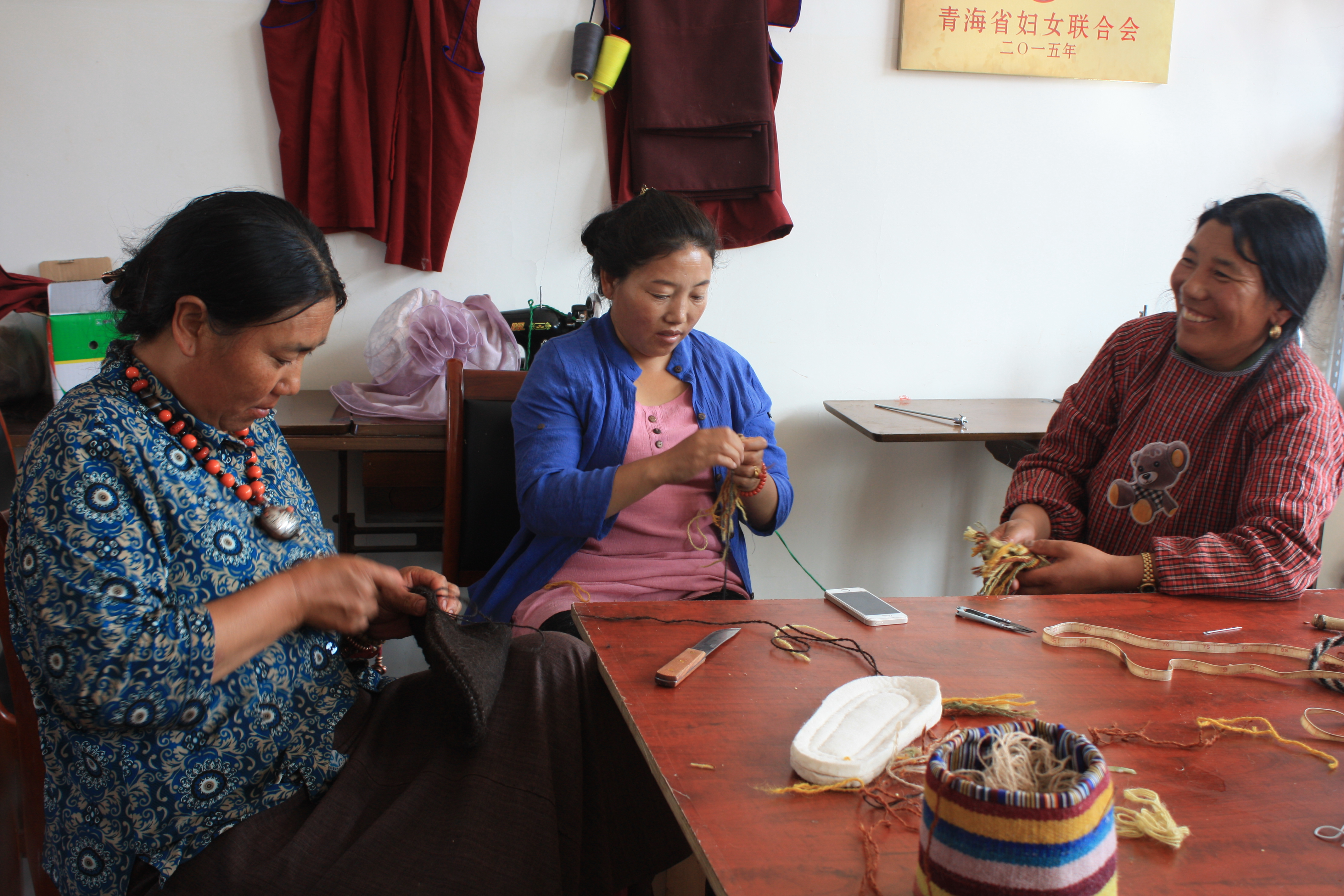 For the past three years, Pucuo Zhongga, a 35-year-old Tibetan woman living in the upper reaches of the Lancang (Mekong) River, has found a new lifestyle. Rather than stay home each day doing chores or tending the family-owned barley field, she goes to work in a community handcraft cooperative in the township centre.

"Since our family has given up herding on the pastureland and moved to settle down in Maozhuang town, we don't have a reliable income source except some meagre income from my husband's work as an assistant police officer," said Pucuo. "Since I joined the craft cooperative, I've had a steady monthly income of around 1,000 yuan (US$154), a significant financial support for our family." [The average annual income of Maozhuang was 4,700 yuan (US$680) in 2016].

Around 13 women from Maozhuang are now working in the cooperative with Pucuo, making products such as yak felt hats, slippers, bags, and traditional Tibetan robes. All are handmade following the local traditions.

In addition to providing locals with employment opportunities, the cooperative was also set up to financially subsidise long-term local environment protection initiatives, said Yong Qiang, the founder and chairman of the cooperative.

The central government has poured billions of yuan over the past decade into conserving the Sanjiangyuan (Three River Source) region of the Tibetan plateau where Maozhuang is situated. The fragile region sits at the headwaters of the Yellow, Yangtze and Mekong rivers and is crucial to the future water supply of China and Southeast Asia. Yet, studies show that environmental degradation, glacier melt and desertification in the world's highest region is worsening.

Local motivation

Locals are taking matters into their own hands. Maozhuang is located by the Ziqu river, a major tributary of Zhaqu, an upper stream of the Mekong. The town is affiliated to Nangqian county in Yushu, southwestern Qinghai province. The climate conditions mean that farming and herding are the major source of livelihoods.

Driven by Buddhist beliefs, local Tibetans have cultivated a respect for mountains and rivers since early childhood. Tashi Gongbao, a local Tibetan from Maozhuang, said people are forbidden to cut trees, poach, or litter sacred mountains. They're also not allowed to approach or pollute river sources.

But with a growing population of over 10,000 people, and the invasion of modern lifestyles and products into the region, Maozhuang is facing environment problems, including rubbish and potential water pollution, like most other places on the Qinghai plateau.

Yong Qiang, a Maozhuang villager and former vocational school teacher, started to organise a team of local village volunteers to clear rubbish from the mountains and rivers, as well as conducting anti-poaching patrols on the pastureland and mountains in the vicinity of their residential regions. But Yong Qiang admitted that villagers struggle to sustain enthusiasm and perseverance for the activities. Not least because patrolling activities are conducted on motorbikes and so cost villagers significant amounts of money in petrol, a burden for locals in an already poor area.

To solve the problem and help improve local quality of life, Yong Qiang and some local villagers came up with the idea of setting up a community cooperative. With technical and financial support from the Global Environment Institute (GEI), a Beijing-based environmental NGO, Maozhuang set up its first handcraft cooperative in March 2013, recruiting over 20 local women to make traditional Tibetan crafts targeting the consumer market outside the area. The cooperative later obtained technical and financial support from some environmental NGOs including Fauna & Flora International (FFI) and Global Environment Institute (GEI).

According to the initial project plan, each year at least 5% of the income would be put into a financial pool to support and subsidise local environmental protection activities. In 2014, the income from sales amounted to 80,000 yuan (US$11,997), and in 2015 it reached 120,000 yuan (US$17,995). "We are starting to make a profit," added Yong.

In Maozhuang and its nearby pastureland there are 13 valleys with four major river sources. With support from local, influential Buddhist monks, the cooperative has encouraged villagers to participate in rubbish collecting efforts. Furthermore, according to Yong, the cooperative is planning to set up over 20 water quality monitoring stations along the four water source valleys this year.

In 2014, the cooperative invested 5,000 yuan in a local primary school to conduct environmental education programmes for students. It's alsoseeking help from recycling companies to find more environment-friendly ways of disposing of rubbish. Currently, it is buried in landfills or burned.

Promotion pays off

In the initial phase, female employees of the cooperative could only make some traditional Tibetan daily tools such as a stone sling or horsewhip.

Through government and non-government support, the cooperative was provided with a free building, machines and materials, art design training and technical support. The products gradually improved in quality and variety.

A room is now set aside inside the cooperative's working centre to exhibit the products, including bags, robes, shoes, hats, and small gadgets like key rings and mobile phone covers. Many combine local tradition with modern artistic elements.

Orders come from art shops within and outside Qinghai, and tourists can find the products online and in major tourist centres in Nangqian county and Yushu Batang airport.

"We are starting to make a profit, and with support, we hope to pass our local handcraft skills and traditions down to the future generation," said Yong Qiang. The cooperative's next step is to hold art and handcraft training programmes for some local disabled villagers. "Part of the income will still be pooled into environmental protection projects," added Yong.

In China, when most community-based environmental protection initiatives are struggling to gain sustainable financial support from the outside world, Maozhuang so far has found its own way to solve the problem.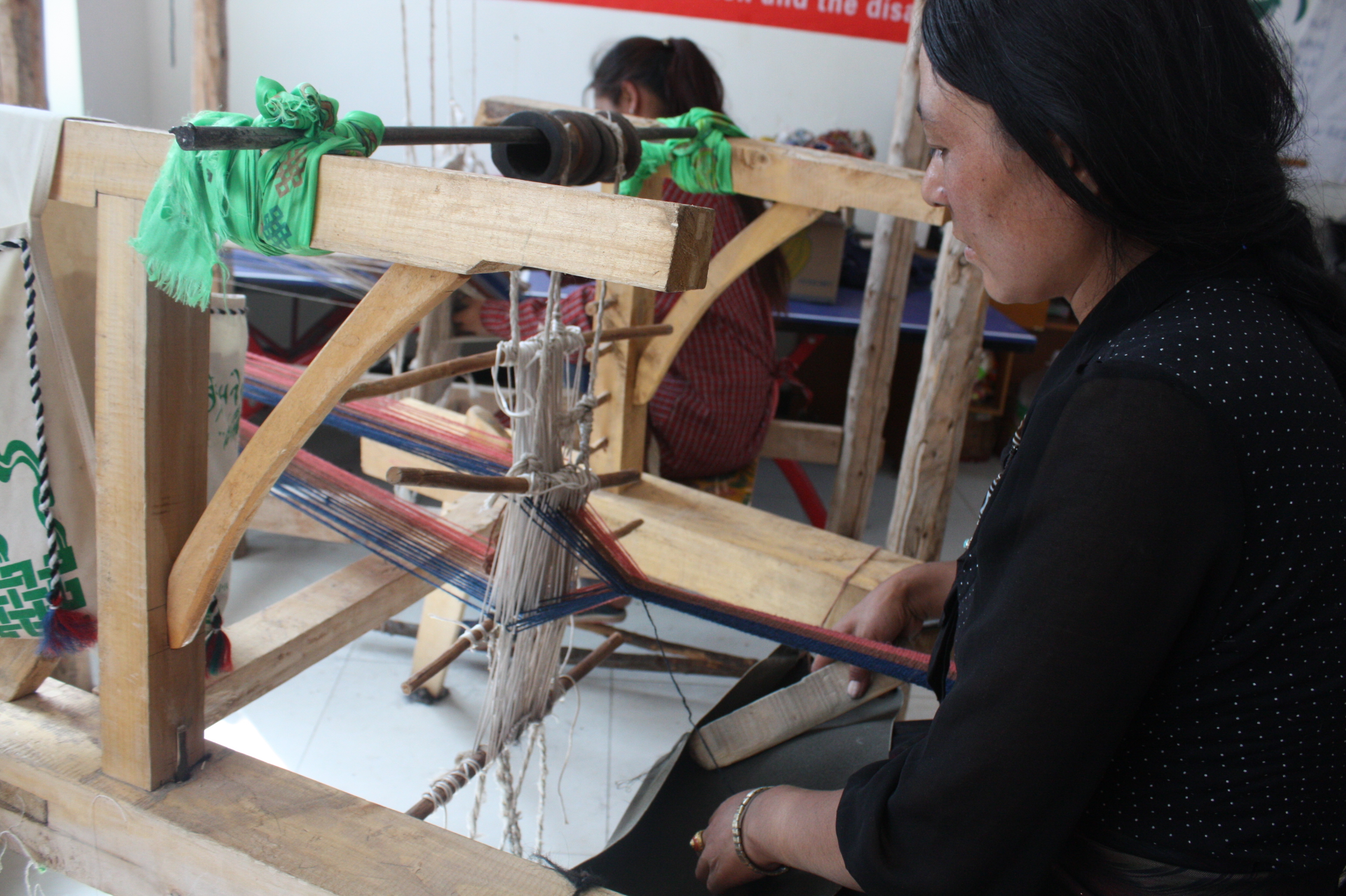 Pucuo Zhongga making yak felt bags. (Image by Wang Yan)

Rare success
​
Peng Kui, GEI's Sanjiangyuan project manager emphasised the importance of locals finding their own path of sustainable development.

"With its natural endowment, combined with local tradition, I believe each community in the Sanjiangyuan can find its own unique way for development," said Peng. "The key is to stimulate initiative and act willingly."

In China, there are about 60,000 community conservation programmes with short-term financial support offered by local government or other organisations. Many programmes only exist on paper as most have yet to do a project or secure funding.

In Maozhuang, GEI invested 50,000 yuan (US$7250) as a funding pool for conservation and community development. The operation of the fund has been handed over to the local community, giving locals a sense of ownership and encouraging a proactive approach to enlarging the funding pool. Some of the money goes back into the community and part of it is used for environment-related activities.

"This cooperative is completely different from those previous ones designed by local government," Peng said. "Since it is in the hands of the community, they are all enthusiastic and dedicated in the long-term."

Elsewhere in the Sanjiangyuan region, according to Peng Kui, seven to eight communities have set up their own cooperatives in areas including eco-tourism, animal husbandry products, traditional handcraft, mushroom planting, and Tibetan tea production.

Past failures

Over the past ten years, China's central government has invested 7.5 billion yuan (US$1.1 billion) on the protection of the Sanjiangyuan area, which it called phase one of the Sanjiangyuan ecological protection project. However, academics disagree about how effectively the money has been used to protect the ecology and improve local people's lives.

A large proportion of the funds have been spent on "ecological migration", which involves moving nomads off the grasslands and into new towns, killing rodents such as the plateau pika and marmots, and the construction of fences on the pastureland. A number of studies suggest these measures may have increased environmental degradation and social problems on the plateau.

"We hope the second phase of the Sanjiangyuan ecological protection project, which would involve another 16 billion yuan (US$2.3 billion) of central funds, will be really effective for ecological protection and local Tibetan communities' development," said Du Fachun, professor at the Institute of New Rural Development with Yunnan Agricultural University and an expert on the study of eco-migration in Sanjiangyuan region. Du suggested that money should be given to community conservation efforts in the future.

Peng Kui agreed, suggesting that the government should invest in purchasing ecological services provided by local communities in the Sanjiangyuan area, such as conservation of wildlife, rivers and soil that other people benefit from.

For local Tibetan communities, setting up a cooperative can provide a stable income and a sense of belonging. Pucuo Zhongga, the craft woman from Maozhuang, said that apart from making more money, she felt stronger ties to her fellow colleagues. "In the past, I often had nothing to do and felt bored at home, but now, I do not even want to stay at home for a single day because I miss the happy working environment with my colleagues," she explained, adding, "We can chat and share all sorts of topics."