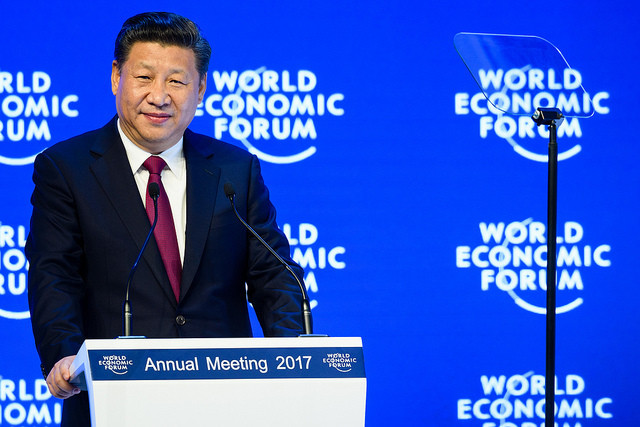 At the pre-meeting press conference of the 2017 World Economic Forum (WEF) at Davos, Professor Klaus Schwab, the founder of this high-profile annual meeting of global political, business and civil society leaders, started with a bleak depiction of the past year.

"The mounting backlash against the effect of economic globalisation, especially in industrial democracies, is threatening a very disruptive impact on economic activities and social stabilities in many countries," he said.

As world leaders convene in the secluded Swiss town of Davos, which gives the conference its name, they will have to confront a disturbing global landscape of emerging populist movements, weakened and inequitable economic growth, and mounting environmental challenges. They must also demonstrate "responsive and responsible leadership", the theme of this year's WEF.

One leader that people are looking to for answers is President Xi Jinping of China. He will deliver an unprecedented opening speech at the forum on Tuesday. State media have suggested his speech will elaborate his vision of a "shared destiny of human kind" and a roadmap for renewed global collaboration.

But beyond such grand notions, leaders from around the world may also learn from China's actual experience in recent years of seeking alternative "engines" of economic growth, a theme that this year's Davos is keen to explore. President Xi's entourage of Chinese business leaders this year includes some of the country's most successful entrepreneurs. A few are from the renewable energy sector, which is one of the country's fastest growing sectors and key to China achieving its environmental and social goals.

So what can the world learn from China's experience of investing in renewables such as solar and wind?

Invigorating the economy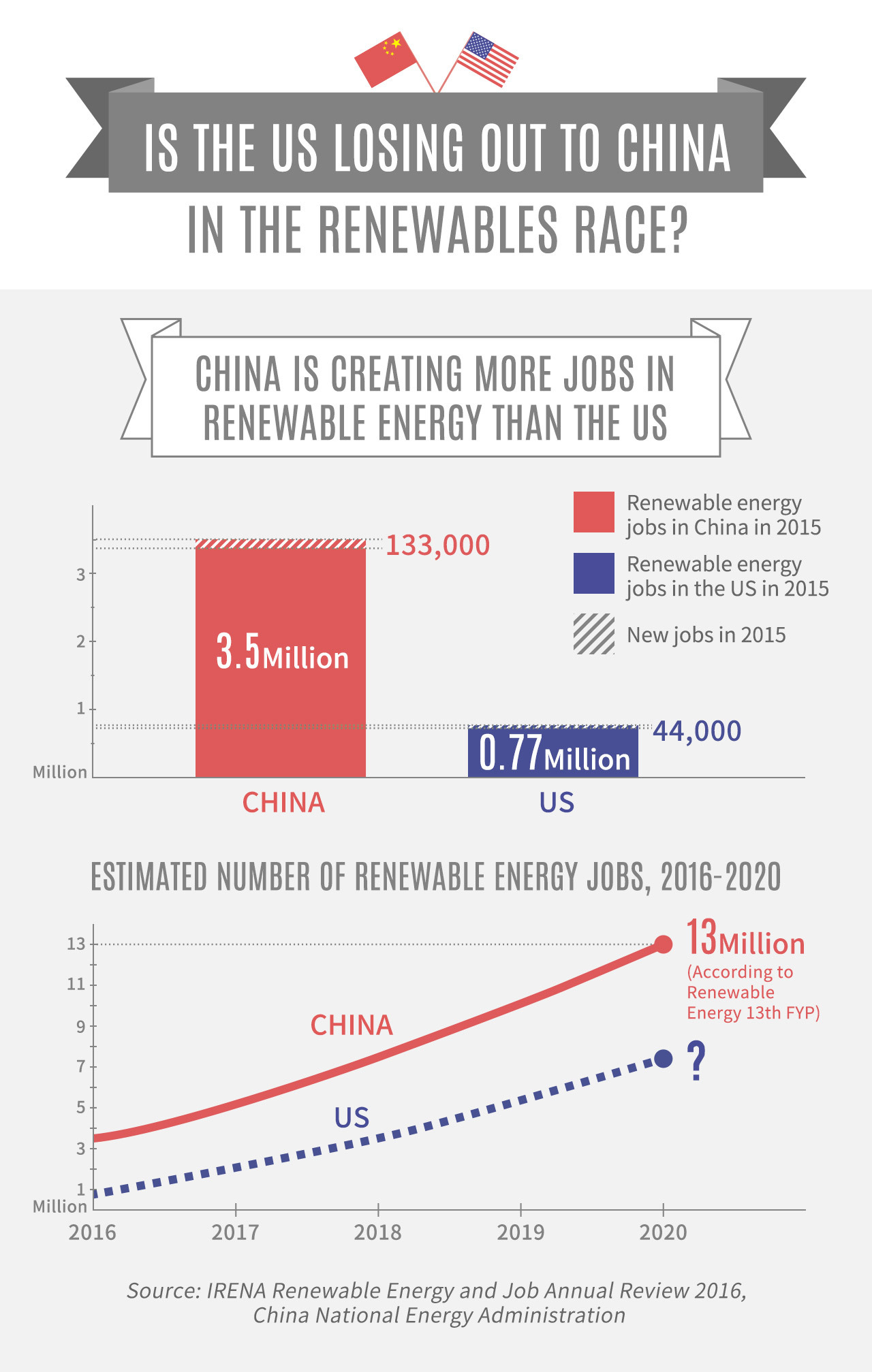 China's renewable power capacity has grown rapidly in recent years. Wind capacity increased 31 gigawatts (GW) in 2015 to 145GW, which is more than Europe. China installed an average of two wind turbines an hour. Solar is also growing quickly, with 15GW installed in 2015 bringing total capacity to 43GW.

In both cases these additions were the largest one-year increases achieved by any country. For comparison, the 2015 wind capacity increase was roughly equivalent to the UK's entire renewable power capacity, while the growth in solar was roughly equivalent to adding the combined solar capacity of the UK and Spain.

As a result of this booming sector, renewable energy is a major employer in China. In 2015, it employed 3.5 million people, nearly a million more than work in the Chinese oil and gas sector. Jobs in renewables have grown by 1.8 million since 2012. In comparison, there were 769,000 jobs in the sector in the US in 2015, an increase of just 157,000 since 2012.

China believes that its 13th Five-Year Plan will create an additional 13 million renewables jobs by 2020. This is more than 5,000 jobs a day, assuming a constant job creation rate over the 13th Five-Year Plan period (2016-2020). These new jobs include China's current 3.5 million jobs in renewables. If we consider the fact that fewer than 55,000 people worked in coal mines in the US at the end of 2016, it means in one year, China will create 34 renewables jobs for every US coal mining job.

Commitment to invest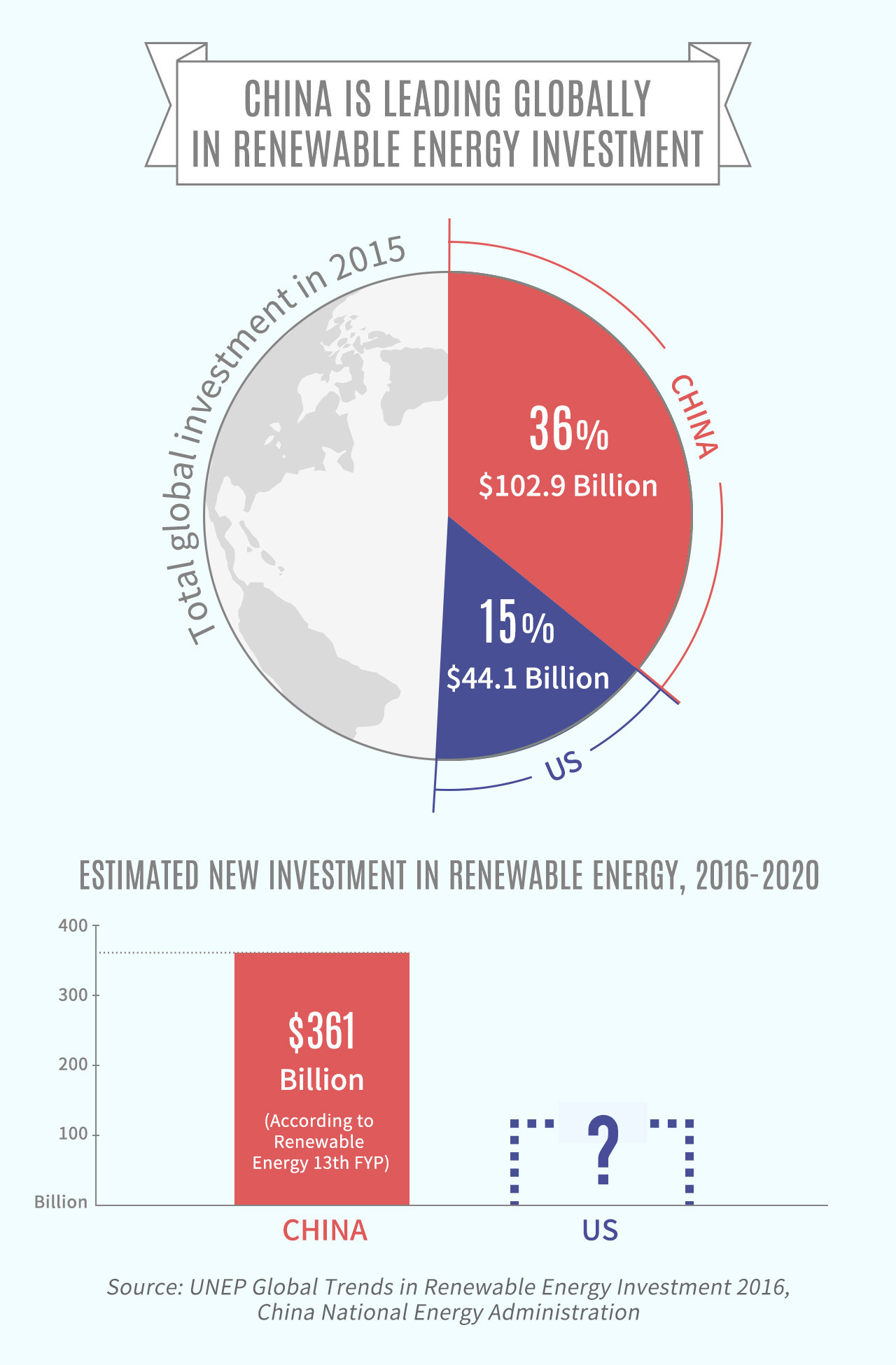 The strong and steady growth of renewables in China is in large part due to the country's unwavering commitment to invest in this burgeoning sector. The country's largest policy bank, the China Development Bank, for example, has been credited for shoring up the solar PV industry at times of great turbulence.

Nowadays, China is the world's largest clean energy investor, investing US$102.9 billion (709.7 billion yuan) in renewables in 2015 (excluding large hydro power). This accounts for 36% of global investment and a 17% increase on 2014.

China expects to add a further 100GW of domestic wind power capacity and a similar amount of solar power capacity between 2015 and 2020, to meet its goal of peaking emissions by 2030 at the latest. This will mean investing a further US$361 billion (2.5 trillion yuan) in renewable power by 2020. Today, Chinese companies dominate the global renewable energy market; the world's largest wind energy company and five of the top six solar firms are Chinese.

The country is also investing in clean energy internationally, taking advantage of a rapid global increase in demand for renewable power (clean energy will be the largest single source of power capacity growth in the next five years, according to the International Energy Agency). In 2016, China's foreign investment in renewables included 11 deals worth more than US$1 billion (6.9 billion yuan), with a total value of US$32 billion (220 billion yuan), a 60% increase on the previous year.

Dwarfing the US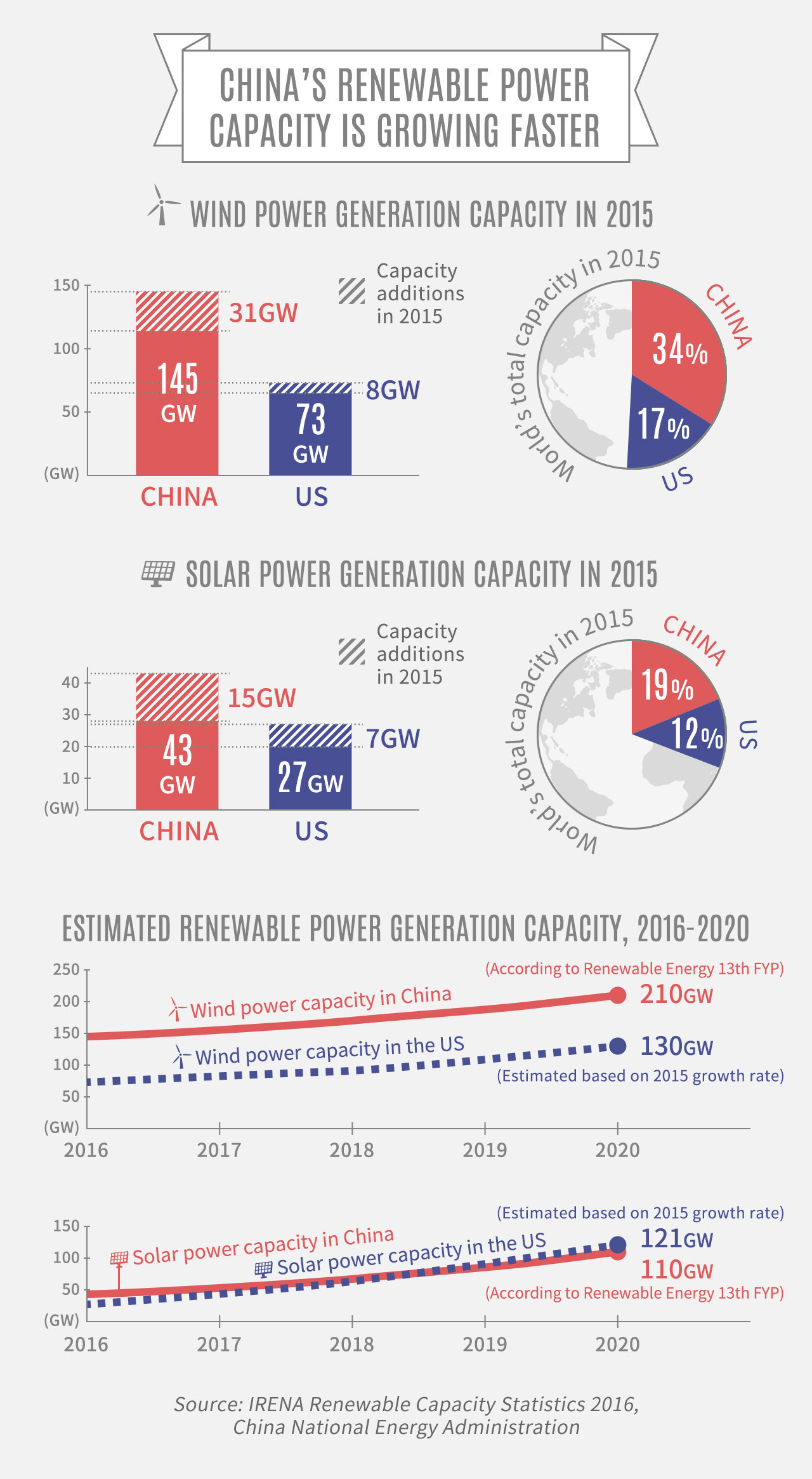 At this year's WEF, leaders may receive very different messages from the world's top two economies when it comes to renewable energy. While China is embracing a sector that many believe will be the basis of how society powers itself in the future, the incoming US administration appears focused on fossil fuels, appointing an oil company executive and a "climate denier" to head the State Department and the EPA, respectively.

China has invested more than the US in renewable energy each year since 2012. US investment in renewables in 2015 was US$44.1 billion (304 billion yuan) – a 19% increase on the previous year, but less than half that of China.

The number of renewable energy jobs in the US increased by around 6% in 2015 to 769,000. Employment in solar grew 12 times as fast as overall job creation in the US, overtaking oil and gas extraction (172,400 jobs in December 2016) and coal mining (53,800 jobs). These are impressive numbers on their own. But over the same period, renewable energy jobs in China increased by 133,000, nearly three times as fast.

Any change to US policies on climate action or renewables must be seen in the context of the global low-carbon transformation that is underway. Although measures to curb renewables and reward fossil fuel investments in the US could certainly drive renewables investment elsewhere, they are unlikely to pose a threat to the continued deployment of clean energy on a global scale.

Along with India and other countries, China is embracing decarbonisation. The overwhelming majority of Chinese people say they are prepared to pay more for low carbon electricity, compared to around half of US citizens, according to polls in 2013 and 2014.

As President Xi's speech at Davos will show, China is embracing more than just decarbonisation. It is poised to harness the powerful forces of the sun, the wind and other renewable sources of energy to reconfigure its massive economy and ensure its future global competitiveness.